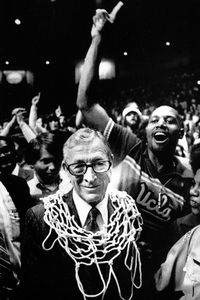 For a man who retired from coaching at UCLA in 1975, John Wooden has remained incredibly well-known and respected over the years.  Today, Coach Wooden was laid to rest after passing away at the age of 99.
Not only was he incredibly successful as a coach winning a remarkable 10 NCAA championships (7 of them in a row), but he is more well known for the impact he had on others as a mentor.
If you aren't familiar with Coach Wooden, check out some of these great quotes:
"Things turn out best for the people who make the best of the way things turn out."
"Never mistake activity for achievement."
"Adversity is the state in which man mostly easily becomes acquainted with himself, being especially free of admirers then."
"Be quick, but don't hurry."
"You can't let praise or criticism get to you. It's a weakness to get caught up in either one."
"You can't live a perfect day without doing something for someone who will never be able to repay you."
"Consider the rights of others before your own feelings and the feelings of others before your own rights."
"Do not let what you cannot do interfere with what you can do."
Download Coach Wooden's Pyramid of Success here.
In a book (I hope to get sometime soon) called Game Plan for Life, the co-author described Coach Wooden as a great mentor as a direct result of those who mentored him.  Coach Wooden included his dad, his wife, and people he never met like Abraham Lincoln and Mother Theresa as some of those who invested in him.
Who are some of those who mentored you?  What made them so effective and helpful in your life?