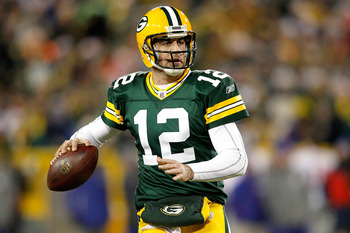 What a great Super Bowl!  After years of blowouts, we have been fortunate to have several great games in a row these past few years!
Since the Seahawks and Cowboys weren't in the big game, I chose to cheer for the Packers. I don't want the Steelers to pull further ahead of the Cowboys for number of Super Bowl wins, and I have been watching the trajectory of Aaron Rodgers' career.
Aaron Rodgers, an alum from Young Life, was at Cal when I was in Los Angeles, so I watched the draft back in 2006 when some thought he might be the first pick. Instead he dropped to #24. It was painful to watch him in the waiting room at the NFL draft after almost every team chose not to pick him, and of course the cameras wanted to see his reaction to yet another moment of rejection.
After years of sitting behind Brett Favre and then enduring the Favre retirement saga, he seemed to stay out of the fray.
Then this year, he endured losing his number one running back at the very beginning of the season and a couple of concussions to finally make it to the Super Bowl where he three touchdowns and won the MVP.
Rick Reilly wrote a great article about his greatest trait: his willingness to forgive. Reilly writes:
"Aaron Rodgers is the MVP of this teeth-grinding, palm-sweating Super Bowl, and it has nothing do with how he throws or how he runs. It has to do with how he lives.
In 50 years, when they write Rodgers' life story, they won't praise so much his freakish arm. They won't write about his Houdini feet. They won't go on about his grace under pressure, his rifle-scope accuracy or his courage while the land around him burned.
No, they'll write about his unlimited capacity to forgive.
Through all the hell Brett Favre put him through, through all the yo-yoing Favre did with Rodgers' career all those years, Rodgers never lost his patience. He never lashed out. Instead, he forgave and got to work.
Fast-forward to the biggest moment of his life — Super Bowl XLV — and teammates started turning on him again.
They started dropping the ball. Literally.
Five different perfect passes went begging. One to Brett Swain and one to James Jones that would've been a touchdown.
The main perpetrator, though, was Jordy Nelson, a third-year kid who dropped not one … not two … but three wide-open, room-service, pretty-as-you-please passes.
But did Rodgers lose patience with him? Did he lash out? No, he did something more amazing.
With the game in the balance and Pittsburgh trying to pull off the greatest come-from-behind Super Bowl win, Nelson dropped a spiral that could've iced the game.
Anybody else might've bit a hole in his helmet.
What did Rodgers do? He threw the very next pass to him. He ignored his safety-valve receiver and waited for Nelson to cross.
This time, Nelson's hands were true. He caught it for a colossal first down. Two plays later, Green Bay scored the winning touchdown.
To err is human. To forgive is divine.
To forgive in the Super Bowl, even better."