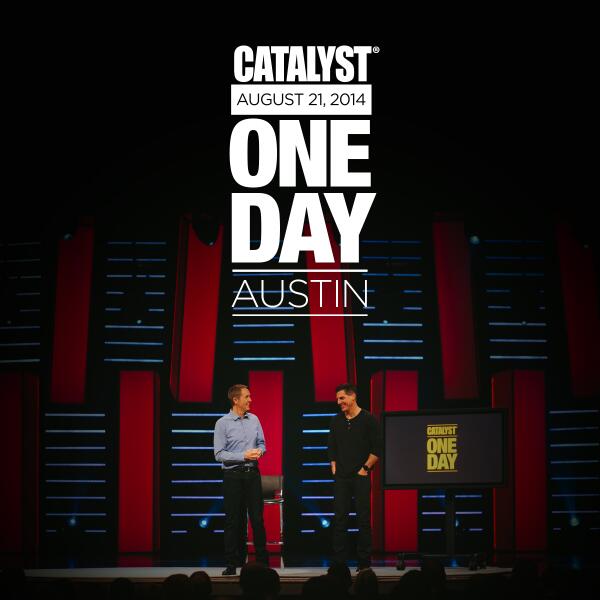 Today I enjoyed the Catalyst One Day event in Austin with our Gateway team.
Andy Stanley shared the following insightful message:
"Our Family goals
1. We want to enjoy each other even when kids are gone.
2. We want to create a family where the kids want to be with us even when they don't have to be.
Some ideas:
Dinner around the table at home 5 to 6 nights a week. Goal of dinner isn't to eat but to talk.
Overreacting and teaching moments shuts down conversation at the dinner table.
Work hard to never overreact.
Have wisdom to say "no" even to good things.
Our families are the primary way we communicate to the world.
In ministry life, there are things that make this hard to pull off.
Our family is our primary ministry:
1. Decide once and for all whose responsibility it is to build the church.
"I will build my Church." – Jesus
Doesn't mean we don't work hard or plan, but we have to get out of the "if I don't … it won't…." mentality.
There is not enough time for everyone. We will have to cheat someone. Cheat the church not your family.
"I will be satisfied on whatever size church you can build with 40 hours of my week." – Andy to God
If God can build the Church in spite of the Roman Empire, we are good.
2. Don't give up what is unique to you for something someone else will do.
Before I got there and after I leave, people will take on what I'm doing.
In my life, my only unique role is father to my children.
My greatest contribution may not be something I do but someone I raise.
3. Discipline with the goal of preserving your relationship not your reputation.
"'Me and you' is more important than 'me and everyone else.'"
4. Pray together outloud at every stage.
Sow the seeds of prayer early on to reap praying together later.
At a certain point, no one can make you do anything but parents can just keep you from doing some things.
5. Prioritize your marriage on your calendar.
Date nights, retreats together, trips together
6. Say "no" for now but not forever.
The ministry family decision making filter
Decide categorically on big issues so you aren't debating every time it comes up. When we don't do this, there is unnecessary tension in our marriages or with our kids.
7. Nobody at home should feel like they are competing with somebody at work.
What we do now will determine what we will experience then.
What we do day to day will determine what we will experience in the future.
Your capacity is determined by your priorities."