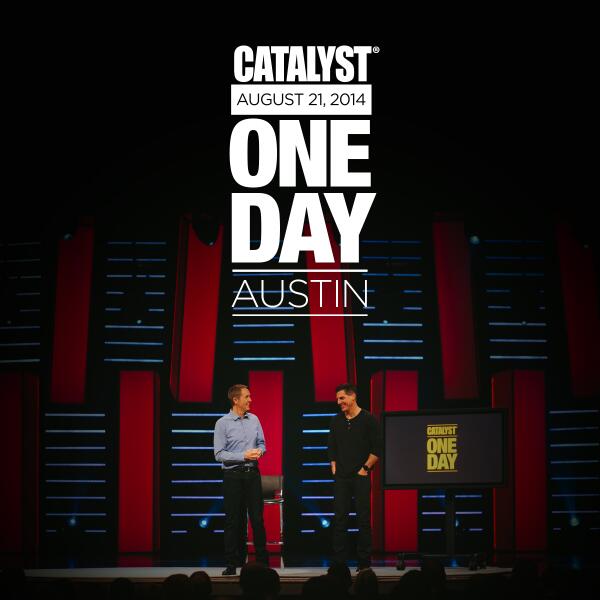 Last week I enjoyed the Catalyst One Day event in Austin with our Gateway team.
Craig Groeschel shared the following insightful message: 
"The single biggest problem in communication lies in believing that I has taken place." – George Bernard Shaw
Just because you said it doesn't mean that anyone heard it or will do it.
Common questions of a leader:
Why don't they think like I think?
Why don't they see what I see?
What don't they care like I care?
The answer:
We are their leaders, and we haven't led them to think, see, or care as we do.

At LifeChurch, we don't let staff members say the following:
Our people don't _______________.
Instead we say:
I haven't led them to ______________.
Rather than blaming others, our leaders take responsibility. When we own it, we can change it.
One of our top goals is to lead our staff and volunteers to think like owners rather than employees.
Rather than working on the business, owners work for the business.
We need to help them think higher, see broader, and care deeper with effective communication.
1. Consistent communication.
Patrick Lencioni: "You are the Chief Reminding Officer of your organization."
Remind your organization of the following:
Our values – what we stand for
Our vision – what we are here for
Our direction – where we are going
It is impossible to over communicate values, vision, and direction.
When you've think you've communicated too much, you are just getting started.
2. Specific communication.

This is what we're doing.
This is who is going to do it.
This is when we'll get it done.
General ideas do not lead to specific actions. Specific plans lead to specific results.
People want to feel needed and known. Community creates this in big or large churches.
We need to give our people something to be excited about spiritually. Our people need to know about the next sermon series and why it is important.
48% of those who go to church only go once a month so they we need to communicate more often and more specifically.
3. Authentic communication.
Truth trumps all.
Authenticity trumps cool every time. The younger generation wants people comfortable with who they are rather than someone trying to be someone they are not.
When you make a mistake, own it. We lose credibility by deflecting blame.
When there is a problem – acknowledge it.
When you aren't sure about something – admit it.
4. Passionate communication.
What we do matters eternally!  People can find freedom through Christ!
Too often we forget how important what we are doing is!
"Light yourself on fire and people will come from miles to watch you burn." – John Wesley
We don't share announcements, we cast vision!
Give feedback AND receive it. Within and outside of the org chart.
This isn't a job! It is a calling!