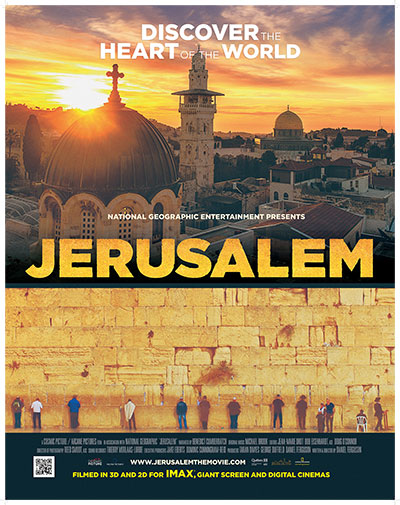 Every time I mentioned the special event with which I helped today, I was reminded how it sounded like the beginning of a bad joke. The truth is I had a great experience today with the 6th graders from O.Henry Middle School as part of a panel with Rabbi Freedman from an Austin Synagogue and Imam Islam from an Austin mosque.
Along with the 6th graders we watched Jerusalem, an IMAX film at the Bob Bullock Theater next the University of Texas. The 3D film on the enormous IMAX screen was really well done as the story of Jerusalem was told from the perspective of a teenage girl from each faith. I highly recommend the film!
After the film, we had a time for Q&A on our thoughts on Jerusalem and its importance to our faith.
The rabbi, imam, and I all shared our thoughts – emphasizing our similarities (a belief in one God who is the Creator of our universe) and sharing some of our differences.
The kids' questions ranged from the dietary restrictions of each faith to the reasons behind the different types of Jewish hats to our stance on the conflict between the Israelis and Palestinians.
We also shared on why Jerusalem was so important to us and to our faith. I shared about how Jerusalem is the place where the Creator of the universe lived among us and from this very strategic place, His message of hope spread throughout the world.
After reading Jesus' words from Acts 1:8 ("…you will receive power when the Holy Spirit comes on you; and you will be my witnesses in Jerusalem, and in all Judea and Samaria, and to the ends of the earth."), I mentioned how our shared ancestor Abraham was blessed to be a blessing to all nations pointing out how all peoples are loved by God.
I also shared with the students how my brother's life and my life changed forever at their age (Scott was 12, and I was 10 when we chose to follow Christ). I encouraged them to pursue the God of peace so that they could become peacemakers in our world filled with conflict.
I gave Not Like Me to a few of the teachers who were interested as well as to the rabbi and imam.
Finally, I pointed the students to the following articles for more information:
It was an honor to be part of the panel led by some great teachers! O.Henry is where Caleb went and where Trevi is now. We are so grateful for this fantastic public school next to downtown Austin!
Here's a glimpse of the film: