Exciting to see the people of Egypt gain their freedom!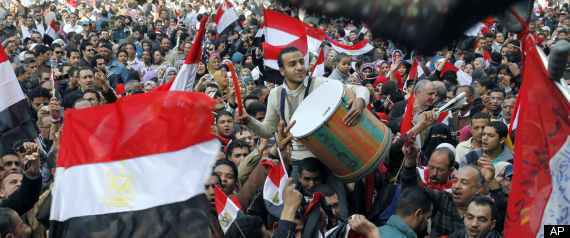 The Associated Press/Huffington Post reports:
"From London to Gaza City to Seoul, the world was savoring the spectacular fall of Egypt's Hosni Mubarak, with demonstrators rallying in the thousands Saturday in cities across the world. But other authoritarian regimes weren't celebrating — and some are trying to censor the news.
In China, where the ruling Communist Party ruthlessly stamps out dissent, terse media reports downplayed the large-scale pro-democracy protests in Egypt that forced Mubarak from power and instead emphasized the country's disorder and lawlessness.
The headlines were matched with an outpouring of international support, with rallies in Britain, South Korea and the Palestinian territories, among other places.
Australian Foreign Minister Kevin Rudd congratulated Egyptians on what he called a clear and courageous protest movement.
'My view is that the people of this most ancient civilization truly deserve a most modern of democracies,' Rudd told the Australian Broadcasting Corp."

Read the rest of the article here.
Freedom can be tricky. With more freedom comes more responsibility. I cannot help but think of the verse from the Scriptures which says: "Everything is permissible but not everything is beneficial" (I Corinthians 6:12).
I am praying for the people of Egypt and the Middle East. I am praying for genuine freedom which includes a freedom to choose your own faith, a freedom to express dissent, a freedom to succeed or fail, and so much more.
I am also praying for wisdom to know how to enjoy freedom while allowing others to enjoy their freedom in different ways. As Americans, we haven't figured out how to pull this off. Too often, we don't seem to spend time with those who differ or disagree with us.  We can learn to love people not like ourselves, but it is certainly easier said than done.